Guide: How to become an accessible and sustainable destination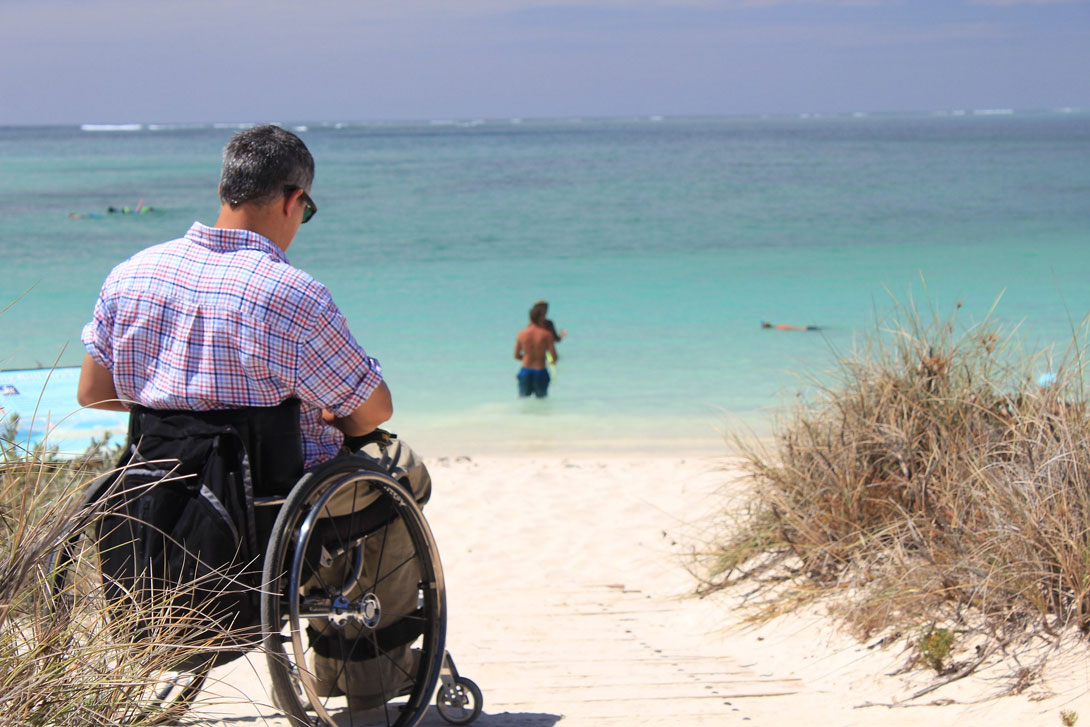 Sustainable Tourism focuses a lot on people but nevertheless often ignores tourists and also locals with handicaps. Shouldn't tourism that wants to be as sustainable as possible even include people with disabilities? Yes, think a lot destinations and also our author Anne Franze-Jordanov who gives some advice in how to be more accessible as destination and also presents some good examples.
Accessible Holidays
How can beaches be accessible by wheelchair, how can a theater entertain everyone, regardless of their physical or sensory impairments? Accessibility for all should be a central part of any responsible and sustainable tourist policy.
Running up the stairs quickly to catch the train, booking a flight ticket online, climbing a tower to enjoy the view over the city. All these activities are easy to accomplish if the traveller belongs to the 85% of the world's population (UNWTO) that lives with no disability. To the other 15% , which are approximately 1 billion people, many tourist facilities, products and services are often not accessible. This lack of accessibility has a direct and negative effect on the quality of tourism destinations and consequently on the tourist numbers. Although accessibility plays a major role in sustainable tourism, it is often overlooked or neglected by tourism stakeholders.
Travellers who need accessible tourism
Tourists and potential travellers that experience access problems are those with physical, mental, intellectual or sensory impairments, older people that are a little more frail, pregnant women, families with small children, people carrying luggage, or people who are big or small in size or stature and people with a chronic health condition or a temporary disability, such as a broken leg.
How to improve accessibility in the tourism sector
Accessible Tourism for all is a form of tourism that involves collaboration among stakeholders to enable people with access requirements to enjoy tourism products, services and environments independently and with equity and dignity.
Accessibility must be present throughout the tourism chain, the links between all sites, services and activities must be well planned and tested. Equally important is the appropriate training of staff in tourist venues. Seven elements of the tourism chain are highlighted and recommendations to improve accessibility are given below.
A. Tourism destination management
The destination must have an easily accessible and well connected network of facilities, infrastructure and transport.
Example: 2018 Access City Award Winner: Lyon, France
B. Tourism information and advertising (Preparation, information and booking)
Tourism material should include clear indications of accessible services and facilities. Moreover, it should state how to contact the establishment through accessible media and if information is available in alternative formats.
Information should be handy of all support services for tourists with disabilities (e.g. facilities for the repair and replacement of prostheses and equipment, veterinary clinics for guide dogs and suppliers and distributors of specialized medical care).
Reservation systems should be accessible so that any tourist can interact with them independently. In addition they should have clear information on the level of accessibility of facilities and services.
Example: Tour operator Umoja (Facebook-Link)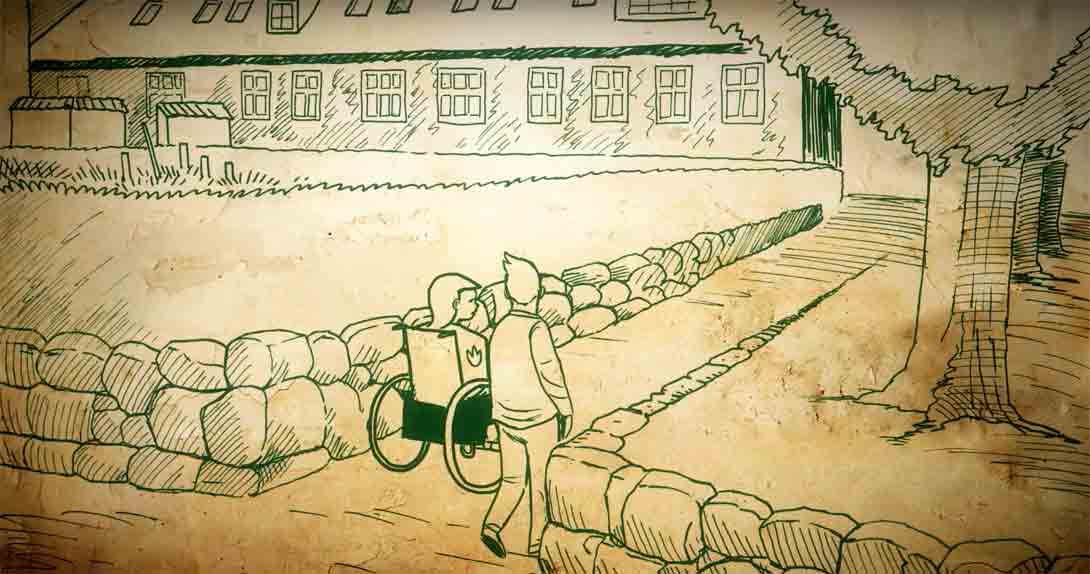 C. Urban and architectural environments
Parking: Reserved, special parking spaces as well as loading and unloading points should be available as near as possible to the entry and exit points of buildings or tourist attractions.
Communication: Alternative ways, means, formats and modes of communication should be accepted and facilitated (e.g. sign language, Braille, and augmentative communication)
Signage: reserved, accessible information, check-in and ticket sales counters should be clearly marked.
Horizontal movement: Effective measures should be taken to ensure independent movement around the venue (main corridors and passageways should be free of barriers and have a width to allow the passage of two wheelchairs side-by-side).
Vertical movement: Multi-storey structures should have accessible, suitable designed elevators and emergency systems. The environment should be at the same level or equipped with ramps or platform lifts.
Public hygiene facilities: Accessible toilet stalls and wash basins as well as an emergency system should be provided.
Prices: The costs of implementing physical accessibility measures shall be included in the budget for maintenance or general improvement works. Additional costs shall not entail an increase in rates for customers with disabilities.
Example: Viborg – "Accessibility in a historical setting"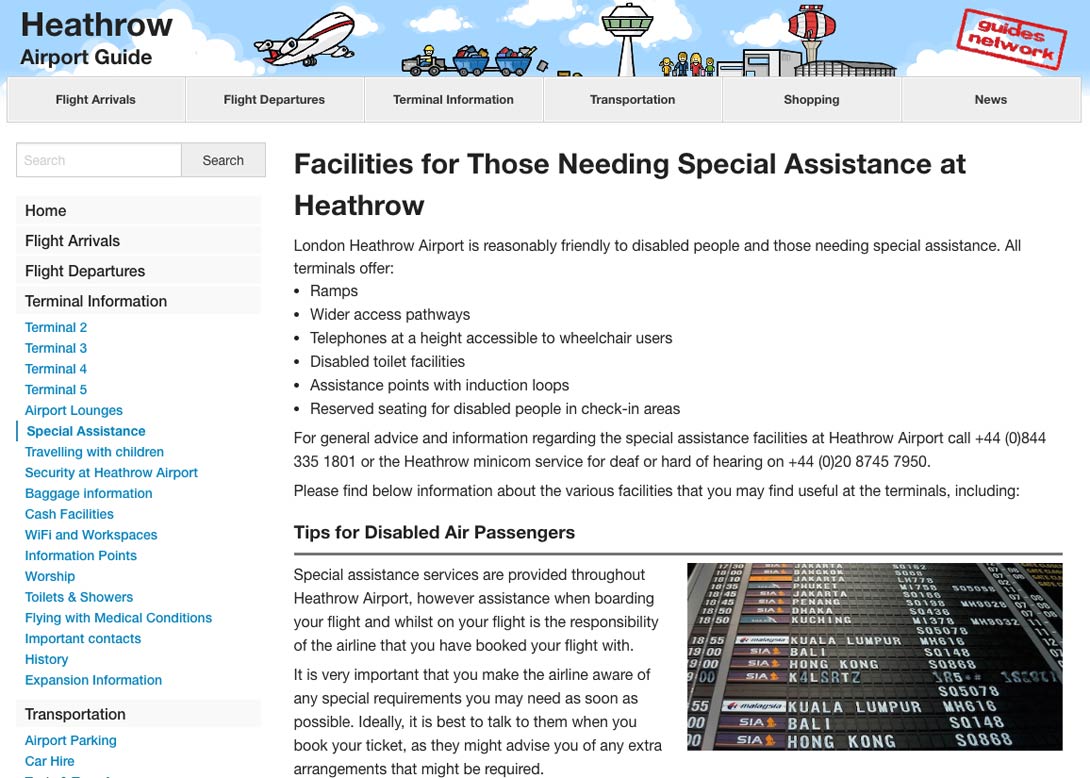 D. Modes of transport and stations
Passenger vehicles should be designed to allow safe, comfortable and equitable transport. The provided information and emergency evacuation procedures must be accessible to all. Passengers with disabilities should have easy access to all transport services to and from all terminals, stations and other related facilities (e.g. availability of boarding chairs to board and aircraft). On main thoroughfares and toll highways rest stops should be provided at regular intervals with accessible facilities.
Example: Heathrow Airport

E. Accommodation, food service and conventions
Accommodation facilities should have rooms that are fully accessible without the need for assistance, and are equipped with alarm and communication systems. Guide dogs should be welcome and their stay should be facilitated.
Restaurants, coffee shops, cafés and bars with accessible facilities including suitable furniture design should be available as well as menus that are with easy-to-read text, in Braille or in alternative formats, and offer additional options for people with different types of food intolerances. In addition to the above features, conference facilities should be equipped with special seats or areas reserved for wheelchair users and special headphones and/or audio induction loop facilities for persons with hearing impairments.
Example: Hotels in Scotland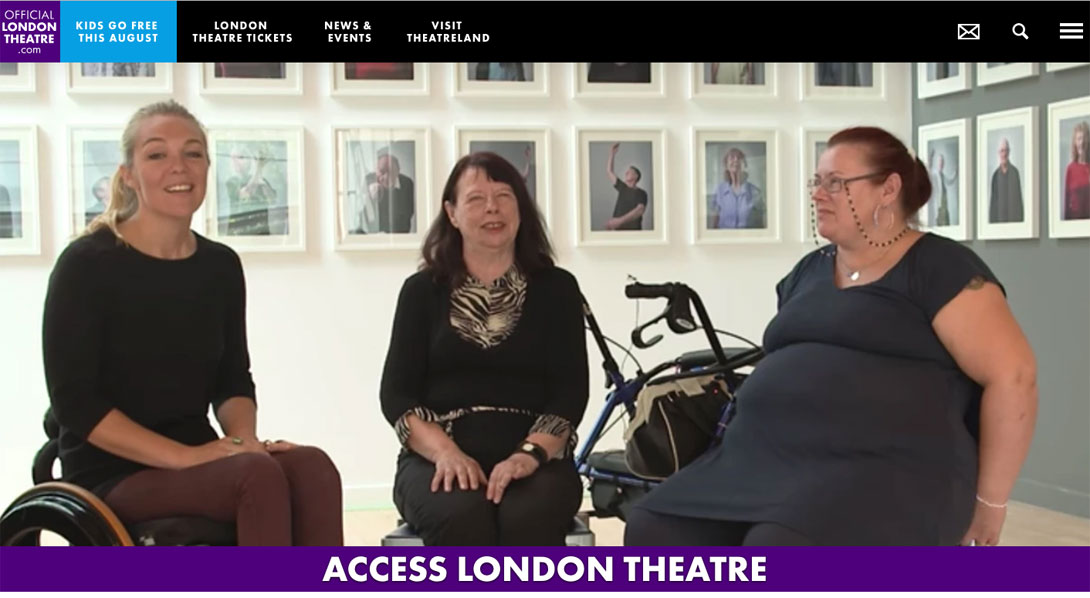 F. Cultural activities (museums, theatres, cinemas, and other)
Materials and cultural activities need to be accessible in appropriate formats and the traveller can participate, develop and utilize their creative, artistic and intellectual potential.
Museums should fulfill the criteria of accessible facilities and information, customer service personnel shall have the necessary training required to communicate with visitors with disabilities.
Theatres and cinemas should, in addition to the above features applying to buildings used by tourists, be equipped with special seats or areas reserved for wheelchair users and special headphones and/or audio induction loop facilities, subtitling and/or sign language for persons with hearing impairments.
Example: Theatre London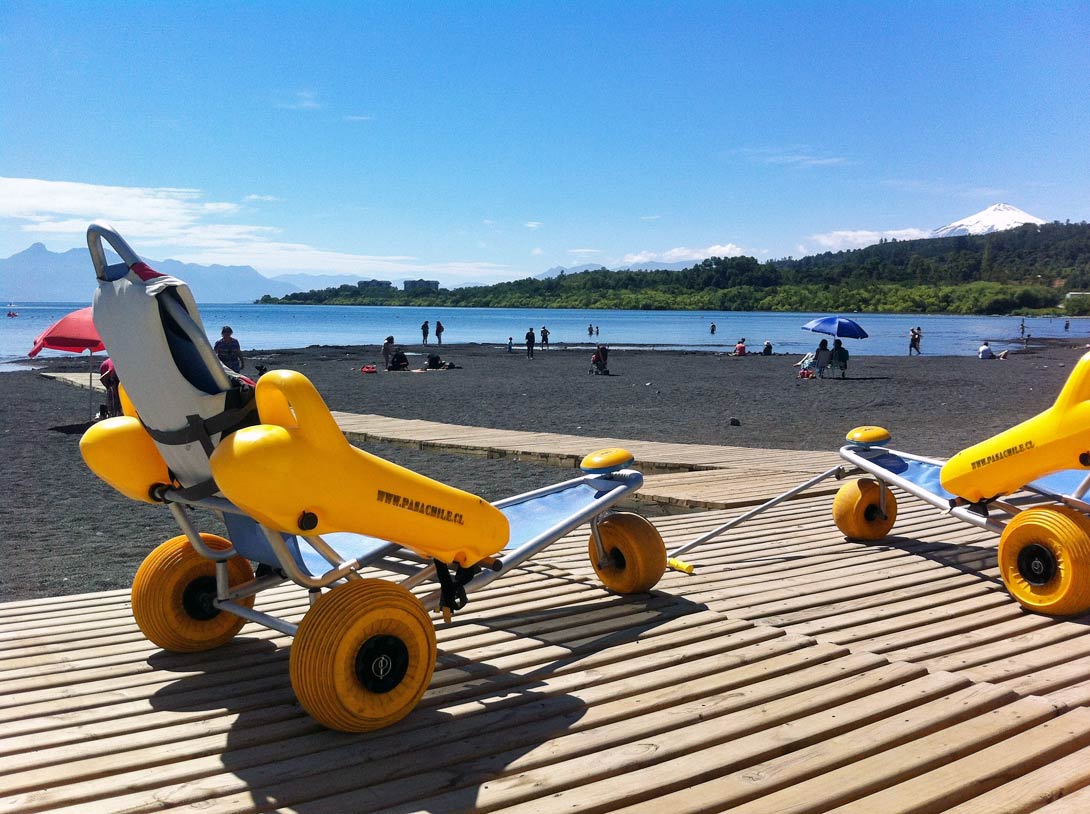 G. Other tourism activities and events
Persons with disabilities should have access to sporting, recreational and tourism facilities; in particular, for the activities listed below:
For excursions to surrounding areas, coaches should and the information provided should accommodate tourists with disabilities.
Access for people with disabilities to sports facilities (stadiums, race tracks, etc.), as well as their participation, as much as possible, in mainstream sporting activities should be encouraged and promoted.
In green spaces, beaches and natural environments there should be accessible routes connecting areas of interest and facilities, and provide fountains. Specific to beaches, adapted changing stations and services, amphibious chairs and crutches to bathe in the sea, with the assistance of a team of professionals are required.
Example: Accessible beaches
Take action, provide information for accessible travel
Google maps is constantly improving their service to help people navigate and explore the world, providing directions, worldwide, to people traveling by car, bicycle or on foot. Recently they introduced "wheelchair accessible" routes in transit navigation to make getting around easier for those with mobility needs. Find out more about the usability and how everyone can contribute here.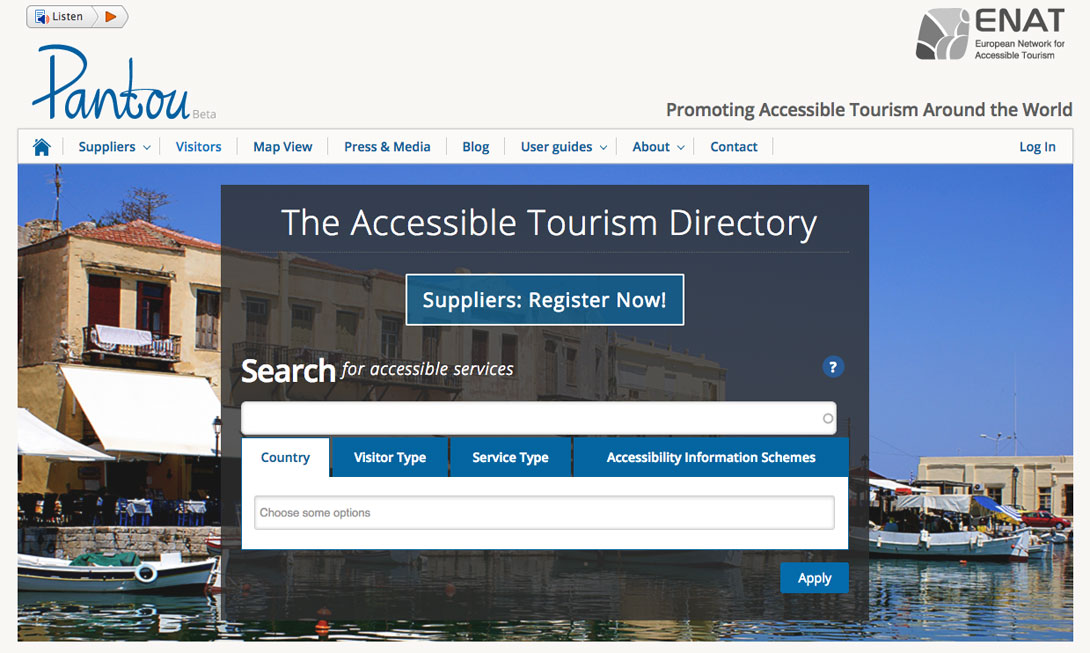 Further information and latest updates on accessible tourism in Europe
ENAT, the European Network for Accessible Tourism is a non-profit association for organisations that aim to be 'frontrunners' in the study, promotion and practice of accessible tourism. The association provides a large amount of information on accessible tourism including good practices, current and past projects, awards, news and events.
The UNWTO published relevant reports and manuals for industry professionals.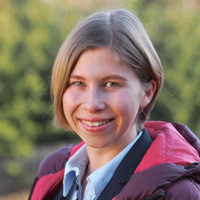 Anne is a tourism management professional with a passion for sustainable tourism destination development. Experiences in community based tourism, health tourism, tourism entrepreneurship, women empowerment, volunteer management and social innovation in Thailand, Qatar, the Netherlands and Germany shaped her interest in using tourism as a tool to accelerate progress across the Sustainable Development Goals.