Interview with Lindsey Reding, Client Relations Manager of Andaman Discoveries
Lindsey Reding works as Client Relations Manager for the Thai tour operator Andaman Discoveries which is trying to minimize the negative impact of their tours and involve the local community as much as possible. In 2014 Andaman Discoveries has won the Thailand Green Excellence Award for their volunteer programme and were announced as finalist for the Wild Asia Award for Cultural Preservation.
Things we wanted to know from Lindsey:
• What are the reasons for doing the business in a sustainable way?
• What are the benefits of sustainable travel in general and for Lindsey especially?
• How does the company involve the local community in their business?
• What are their experiences of starting a sustainable business?
• How do the company help interested companies that want to join your service and act sustainable?
• What kind of tourists are Andaman Discoveries customers?
• What are Lindseys wishes or hopes for the future?
What are the reasons for doing the business in a sustainable way?
The idea for sustainable tourism with Andaman Discoveries came with one simple question: How can a tourism business be sustainable when its core goal is profit and expansion? Where tourism is the core product and sustainability is a tool to achieve that. Andaman Discoveries developed our business in the opposite way. We started with a core goal of sustainable development and used tourism as a tool to achieve that.
We are not a business adopting sustainable development practices, we are a sustainable development company adopting business practices. The level of thinking that got Andaman Discoveries to this point (people that say "let's add a little sustainability to our fundamentally unsustainable economic model of growth and over-consumption") is not enough to create a solution, so we need new models. That's the difference between "eco-friendly" tour operators, and real social enterprises like us, because we are brave enough to turn away from a standard business model, and build our organization around community development.
To create long term change and a shift towards sustainable business, the model needs to change, focusing from the beginning on sustainability. The standard model of sustainable business development is based on adding sustainability to a fundamentally unsustainable economic model of growth and over-consumption. Making sustainability an afterthought of business development to target a core market of responsible travelers.
Andaman Discoveries was able to turn away from a standard business model and build our company around community development, creating a profitable company. This is the difference between "eco-friendly" tour operators and real social enterprises like us.
What are the benefits of sustainable travel in general and for you especially?
Benefits of sustainable travel ensure that there will still be beautiful recourses and local culture left in the future for the local people and the tourists that are traveling to enjoy.
When we look at the benefits, we look at how our community based programs benefit the local people involved. Andaman Discoveries strives to maintain quality, sincerity, respect and personal service to our guests and community partners so that benefits reach all parties involved. By seeing the value of each individual we aim to create meaningful, educational and memorable experiences for both the guest and the host.
We work towards addressing global issues such as climate change, human rights, nature conservation and sustainable development through the grass roots level. Our programs are created in collaboration with the communities in which we work and use local resources to have a positive human, environmental and financial impact. We conduct community based development projects to assist our partners to reach their desired goals and aspirations. They take into consideration the impact on both the environment and culture, and aim to provide a better quality of life for our communities, guests and partners. We seek to create innovative approaches to help foster knowledge sharing, environmental stewardship, and cultural exchange.
Our programs also create a viable monetary value for the communities involved. For example families that host guests and provide meals for a 3-day-2-night homestay program in Ban Tale Nok village have a 30 percent increase in income. Another example is that the Koh Surin Moken Experience program now brings enough revenue that the Moken guides are receiving a standard working salary that they have not had access to in the past with labor based jobs.
Below are a few examples of how the Community based tourism directly benefits the community participants.
Village Experiences: The villagers – the guides, host families, handicraft cooperatives – receive fair wages as stipulated by the community-based tourism committee. We ensure that a majority of the money from each trip goes directly to the villagers and contributes to the community fund. This creates jobs to help families stay together instead of working in towns far away, and supports scholarships, youth activities, and other initiatives.
Volunteer and Service Placements: Volunteer time, effort, and attention are of great value to the villages, schools, and children's homes that we serve. We also provide our partners with financial support as they rely on limited government funding and/or donations. A project donation to the volunteering location is included in the program price. For example, the Burmese Learning Center received an average of 25,000 THB (around 790 US-Dollar) of donations from volunteers to assist with the lunch program and teacher salaries.
Study and Service Projects allow community partners to complete jobs that they cannot afford or do not have the man power to complete independently. For example, a student group came and planted over 500 mangrove saplings with a local community group that did not have the capacity to complete this task during the one month that the mangrove trees bear saplings. Another example was the completion of an organic garden, water catchment system and playground at the Burmese Learning Center.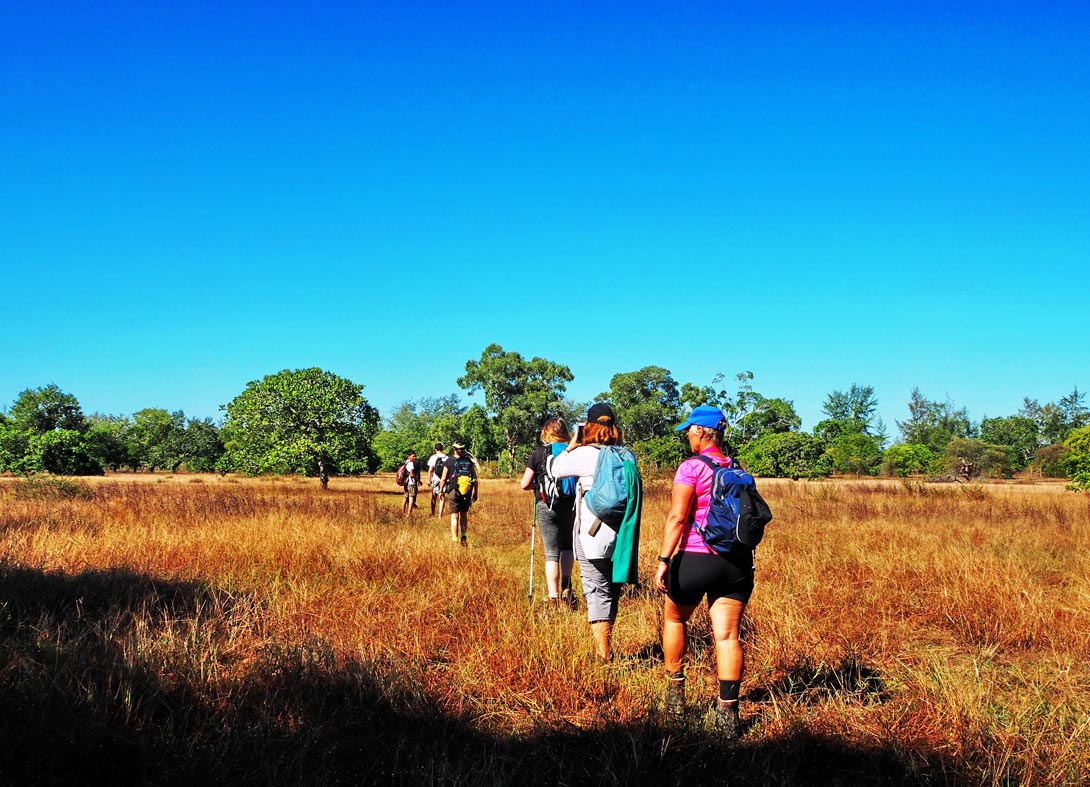 How does the company involve the local community in their business?
Andaman Discoveries engages local communities to be the facilitators of tourism. Since 2012 we have been developing a community based tour with the indigenous Moken sea nomads within the Surin Islands National Park. The popularity of this tourist destination is adversely affecting the Moken community.
A six person Moken tourism guide group was trained to develop a unique private tour that highlights their culture and traditional lifestyle. This project enables the Moken to strengthen their capacity and co-create sustainable tourism. The program generates benefits including job development, educational culture exchange, allows the Moken to remain within their community and strengthens their cultural heritage.
Last season 2015-2016, during the six months that the Koh Surin National Park is open to visitors, the Moken Tourism Team hosted 25 groups and 120 guests. This was enough for the guides to make a living wage salary, thus creating a great monetary value within this program and village.
Also, there is a built in community fund donation in the program price so that the entire community benefits from tourism, creating solidarity. Last season the Moken Community Tourism Group saved 10,500 THB (around 330 US-Dollar) for the community fund and used it to fix the roofing on their informational kiosk and also fix the motor for their traditional "Kabang" houseboat.
We have seen that the Moken guides are beginning to build confidence in their guiding capacity, therefore allowing them to voice opinions about the tourism within their own village. We have also seen that more of the villagers want to take part in the program. For example, last year the women who previously had no interest in being involved, wanted to begin teaching guests how to make bracelets woven from forest Pandanus leaves and also sing traditional Moken music.
With trust and patience amazing community based tourism program can be developed as the villagers recognize their sense of place and take control over tourism with their villages. The Koh Surin Moken Program is a true testament to capacity development and respectful guests encouraging villages and guides to take confidence in their traditional lifestyles and encourage it to be preserved through sustainable and community based tourism.
What are your experiences of starting a sustainable business?
Our experience in starting Andaman Discoveries is to have patience, the willingness to adapt and also time. When working with local communities it is essential to put their needs and ideas first and act as facilitators to build their capacity so that the actual responsible tourism business is only needed for certain aspects of the program, allowing the communities to be as independent and self serving as possible.
We feel that it is important to have transparency within and outside of the company and also to stick with the core values, ethics and mission of the company. It is also important to realize the capacity and what is able to be accomplished so that expectations are accurate.
Through our previous successes in the initial working communities, our model of community based tourism and volunteer programs have inspired new villages and schools to participate in tourism. This type of tourism allows guests to immerse in the local culture and directly contribute to the economic and social development of these communities. For communities, the tourism helps villagers develop a sense of pride in their local culture and environment and encourages them to keep their traditions alive. For schools, the volunteers allow students and teachers to see the reality of language and experience cross-cultural exchange.
Empowerment, education, and training will fail to have any long-term economic, social, or environmental benefit without creating realistic opportunity. After empowering communities, we work to help them understand responsibilities, create a common goal, and develop capacity in all areas, not only those related to tourism. We ensure that the majority of the profit from each village tour goes directly back to the villagers, 20 percent of guests' in-village costs are donated to the village community fund. This creates concrete opportunities for the villagers who may otherwise have to find employment outside the village. This approach allows community-led development and tourism to go hand in hand.
We also think it is great to have a charitable giving component to the company that supports local projects and initiatives. For example we have opened our North Andaman Network Foundation to separate the profit making company from the charitable giving side, allowing for transparency and marketing separation.
How do you help interested companies that want to join your service and act sustainable?
Over the past 2 years awareness of sustainable tourism in Southern Thailand is increasing, getting attention from the Tourism Authority of Thailand, the academia and also other Thai tourism companies and organizations. After winning awards over the past four years, we have become an outlet of information to these companies. We offer our previous experiences to help shape the future of tourism and also involve the local communities in this. For example, we match our homestay villages with upcoming homestay villages to do trainings together. It is a place for them to train, share and develop capacity. We strongly feel that a good network of like-minded sustainable tourism operators and also local communities will ensure a bright future for the tourism industry as it can be way to conserve natural recourses and the local
heritage.
We offer our products to a wide range of tour operators both domestically and internationally to help promote the benefits of community based tourism for the North Andaman Coast region. Our staff attends various trainings on sustainable tourism where we network and share experiences with other tour operators.
Within our small community we use only local family owned resorts, take guests to eat at local restaurants and use a local transportation company. We also encourage these businesses to have beneficial interactions with our communities and sustainable business practices.
We are actively engaged with local government agencies and vocally express our stance on the type of tourism development that should take place in our area. For example we offered trainings for the guides of a local tour operator to the Surin Islands, which brings guests to the village of the indigenous Moken people. These trainings helped facilitate them employing a local Moken guide when they enter the village. This training also caught the attention of the national park, which helped to highlight the importance of this indigenous community and how guests would like to interact with them.
What kind of tourists are your customers?
Being a responsible tourism operator, we attract like-mined guests who have true intentions of participating in sustainable and community based tourism. This is very important for Andaman Discoveries as we act as a bridge between communities and guests who come to Thailand to truly learn about the culture and local area. Our community partners trust us to market their tourism in a way that attracts guests who will enter their villages in a respectful manner and who have true intentions of interactively participating.
With our specific and distinct market of community based tourism programs, we receive guests who are seeking a cultural, volunteer or environmental experience. They want to actively engage with the local in the country they are travelling or they want to give back by volunteering or participating in a service project. We find that potential customers are seeking key words and searches based on these principles, allowing us to promote and market accordingly.
We feel that these human experiences our guests have allow them to connect to the people and places that they visit. This allows for them to have a truly intrinsic experience and shapes their way of travel for the future. We have found that connected travelers are more likely to share their sustainable travel methods with people back home and also continue to travel in a sustainable manner.
What are you wishes or hopes for the future?
We will continue to establish more community groups based on the model of our current local partners in the Kuraburi district. Our goal is to inspire more villages to form a tourism group of their own, discover what they would want to share with visitors and create additional forms of income through homestay programs, eco-tours or community-run resorts.
By constantly reviewing our existing programs and discussing new ideas with the communities, we want to maintain our successful partnerships. We want to continue to work with other companies, government agencies, NGO's and communities that share the same sustainable tourism goals in hopes that together, we can begin to make sustainable tourism not just a niche in travel but the only way to travel. This comes from networking and sharing models of success and always thinking about the local communities first.